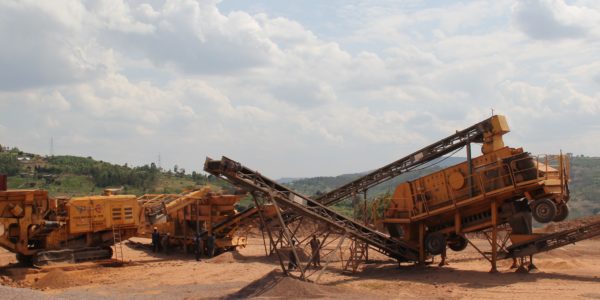 NPD currently operates three quarries in Rwanda – in Kamonyi, Rwamagana and Nyakinama districts – mining strong and durable stone, primarily granite. The company employs 32 permanent, experienced staff and a drilling machine to produce hard core rock, which is crushed into and aggregates of different sizes for their unique purposes. All rock is tested to determine its quality and ensure durability using the Los Angeles method. These materials supply NPD's production and construction divisions.
Yield for Production: 0-31 for stone base mix, 6-10 for curbs/shoulders, and 4-25 for concrete
Yield for Construction: hard core for building trenches, 0-6 for fine?, 6-14 for asphalt, 14-25 for slabs
NPD upholds high safety and environmental standards at its quarries. All staff receive training, and must wear protective gear (masks, gloves, helmet, uniform, ear plugs). Water is added to the crusher to manage dust, and blasting is carefully controlled. When leaving the area, NPD carefully removes machinery and returns the land to green.